1.14.18 // The Birthday, The Beach, & The Beautiful // #MiamiTripRecap
First of all ... 2018 has started off A-FREAKING-MAZING! I LOVE JANUARY! Not just because of my birthday (January 14th - #TEAMCAPRICORN) is in it, but also because January is the month of "beginning", newness, fresh starts, goal setting and possibilities! Everyone believes that they can conquer any and everything, let go of all things and replace old habits with new hobbies. It's beautiful the way that possibility and positivity starts to become the object of everyones passion. For me January is not only a fresh start, or a new year --- it also means I turn a new age! I'm able to celebrate the year ending and all that I learned within it while still celebrating a new year and the new wisdom I'll gain from it.
Photos By: Avion Thomas (@avionthomasphotography)
JANUARY 14th, 2018 was the BEST DAY EVER! I turned 26! I sat on South Beach in Miami, FL after stuffing my face at Nikki Beach (an amazing beach club joint) and enjoyed tapping into all my island girl tendencies by enjoying the sound of the waves, sweet kisses from the sun and warm sand - I absolutely LOVE the beach (January babies generally have to deal with cold weather during their birthdays if they don't live in dominantly warm climates) & I'm a total beach bum, so it was EVERYTHING!
You can't go to Miami and not go to SOUTH BEACH! Like my sand creation? I'm kidding! Somebody really awesome spent a ton of time making it and everybody on the beach was taking funny pictures next to it ... #DOPE!
If you haven't been to Nikki Beach (Nikki Beach Club) — You MUST GO! It's a super dope spot with all you can eat fancy buffet style food (I'm talking, waffles, deviled eggs, omelette stations, dessert bars, potato pancakes, fresh fruits, & whatever else you can imagine), & amazing drinks! Awesome entertainment is an uderstatement , (there was a sax player playing music LIVE --- right in front of me with two burlesque dancers on little pillars), and the service/scenery is absolutely outstanding!
Sundays are the best days to go to Nikki Beach because ... 1. They're brunch is world famous & the buffet (which is optional) is one of the best buffets I've ever been to in my life! Save your wristband so that you can come back for lunch (during the afternoon after brunch) and get into the lounge/nightclub at night for free!
2. Pearl Lounge (what Nikki Beach Club turns into at night) is one of the best places to party in Miami Beach! It's beautiful, the drinks are good, and the entertainment aspect is amazing! (There was drum player who's costume lit up every time he hit the drums and cool dancers!) Also, if you get a little toasty from all the dancing inside there's an outside area where you can relax and cool off or do a little hookah if you want ---SUPER BOMB! If you like Ratchet clubs, this may not be the spot for you, but if you love a good mix of music, diverse crowd and lounge-y type of turn up joint, then Pearl is definitely a "GO!" for you! Oh & it's open till 5am! I had a BLAST!
I stayed at a small boutique style hotel called the Whitelaw Hotel during my trip. The hotel is conveniently located on Collins Avenue, literally a block away from the famous street Ocean Dr. and around all the cool spots like Lincoln Road Mall, Espanola Way, Art Deco Center/District/Musuem, the beach, and all kinds of great restaurants! The hotel has free wifi, complimentary drinks every night from 7pm-8pm, beach towels, & a free 24-hr shuttle which runs back and forth to the airport! The hotel itself and my room was so beautiful!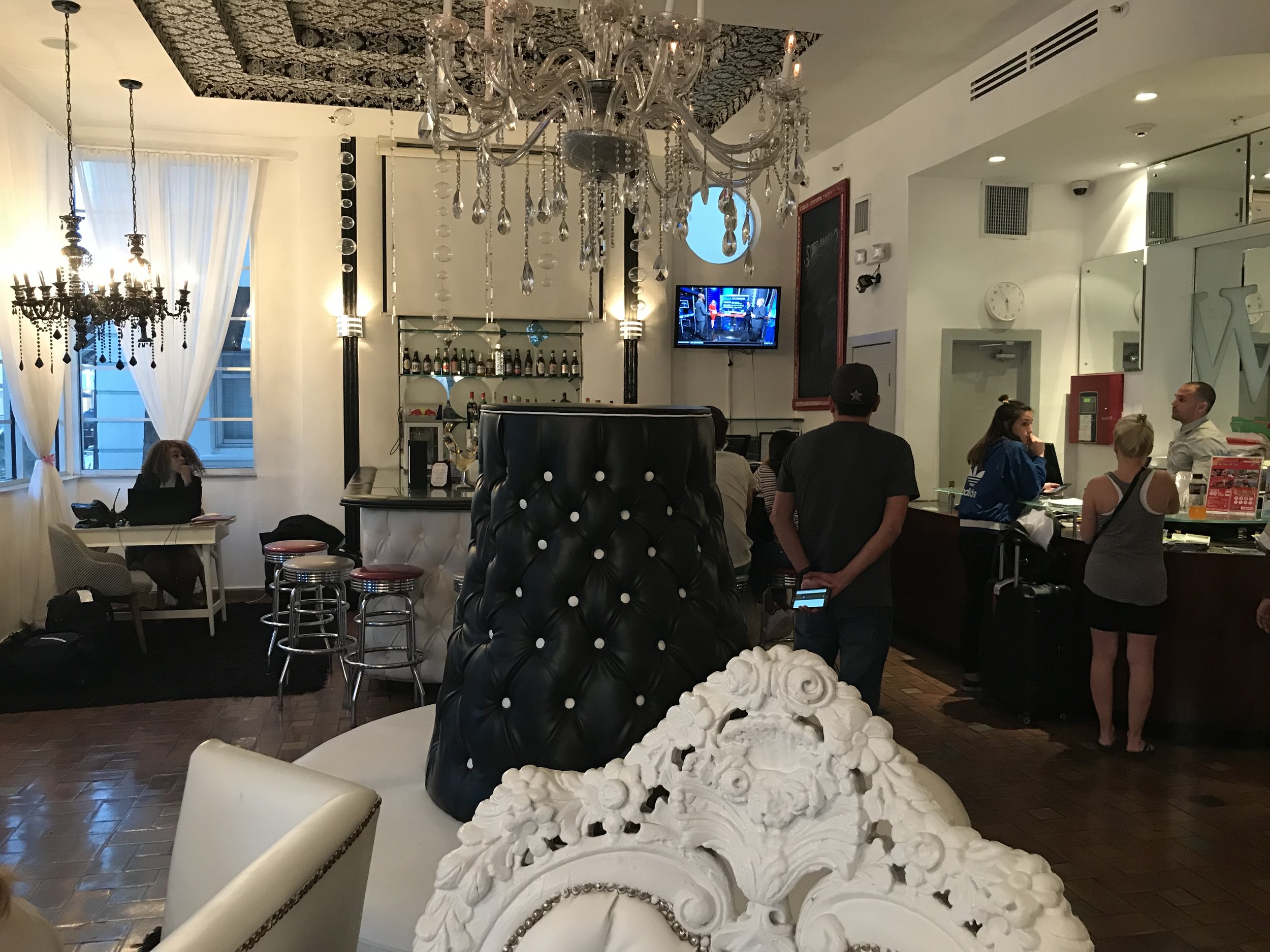 The only things that weren't an A+ in my grade book as far as the hotel was the small bathroom, no parking, and interesting staff here and there, LOL! Overall I would definitely stay again! We made the mistake of renting a car, but would definitely not recommend doing so to anyone else because: 1. The hotel does not have parking (and you will have to pay for parking literally everywhere you go. & 2. PARKING IS BEYOND CRAZY & RIDICULOUSLY EXPENSIVE! We had to find a parking garage nearby that allowed us to park overnight for like 20$ everyday. Valet is like 40$ everywhere! We didn't want to have to keep bringing the car places where we knew we would have to find parking and keep paying to park. It was a blessing that most of everything we planned to do was in walking distance from us! The meters charge, the parking lots charge, the garage's all charge, EVERYWHERE you can park, there is a charge! Free parking?! Where they do that at fam ? In Miami Beach --- #IssaNo SO basically just be smart, save your coins baby & #UberEverywhere unless you seriously need a car.
Miami was special to me for many reasons, but seeing my oldest brother (which I haven't seen in like over 20 years) was the biggest highlight! He came up to Florida from the Bahamas and I drove to Ft. Lauderdale from Miami Beach (an hour away) to have dinner with him and my nephew. THAT WAS SO & INCREDIBLY BEAUTIFUL to me! My two older brothers and I have have the same father but different mothers and we all grew up separate. I grew up in Texas and they both grew up in Freeport Bahamas. We connected when we were really young, but lost contact throughout the years. We finally re-connected almost 7 years ago or so and we've been attached and constantly in contact every since! I wasn't able to see both of my brothers this trip, but I know that we'll all see each other together soon! We all look just like each other and it was so amazing to actually see each other in person versus speaking on the phone or through social media! I can't really explain it, but in a way it felt like we hadn't really been apart as long as we had. We promised to never stay apart for that long again! Family will always hold a special place in your heart no matter how long you're apart, away, or distant.
Miami is a city full of life every hour no matter what the hour! In Dallas everything closes at like 2am so in essence the city is shut down by 3-4. In Miami, there is no shutdown! Everything basically shuts off for a minute, and then its time for breakfast because the sun is coming up and then BAM! ; Its party time again, all throughout the day and night! ---Sleep is not a concept! HAHA!
Press Play: Miami Birthday Trip Recap Video
Domino Park (Have you ever seen little old men playing chess and dominoes at a park in movies and tv shows? Well it's like a real life thing lol ... )
Calle Ocho / Little Havana Little spanish town w/ live music and yummy tacos!
http://www.miamiandbeaches.com/places-to-see/little-havana
Española Way (Street w/ cool cuban/spanish restaurants and buildings)
Players Sports Bar & Grill (Ft Lauderdale)
Downtown Miami (It's so beautiful at night ... OMG! JUST DRIVE THROUGH IT IF YOU CAN!)
Biscayne Bay (Drove over it a ton of times --- Its really PRETTY! There's also massive mansions on the water and cool tours you can book to see more of the bay.)
Blue Martini:
https://bluemartinilounge.com/
Velvet Creme:
https://velvetcremedoughnuts.com/menus/
Ball & Chain:
Lincoln Road Mall
Havana 1957 (Cuban Food) [Get the "Ropa Vieja"! SOOO GOOOD!]
http://havana1957.com/espanola-way/
Hope I've helped anyone planning to take a trip to MIAMI in the future! I will definitely be back! This birthday trip was my very first trip of 2018 and it was AMAZING! I'm excited about all the many adventures ahead! God got me out here living my best life ...
Can you keep up ?
Follow me on instagram: @bsrthefashionista and watch my IG stories so that you don't miss anything !
XoXo!
Until Next Time,
-B